PT Dans Multi Pro has been appraised at level 3 of the CMMI Institute's Capability Maturity Model Integration!
CMMI (Capability Maturity Model Integration) is an international best practice that is proven to improve business performance through the development and assessment of a company's key capabilities. CMMI focuses on what needs to be done for higher performance and align operations against business goals. This approach is designed to be flexible and can be integrated with the agile processes implemented by PT Dans Multi Pro.
In Indonesia, there are currently only 6 companies appraised by CMMI. Those companies are: Bank Indonesia, Berlian System Informasi, PT Abhimata Persada, PT Anabatic Technologies Tbk, and PT. Pro Sistimatika Automasi. Now, PT Dans Multi Pro has joined the list.
With the CMMI approach, employees at PT Dans Multi Pro can focus on best practices and project performance development, without having to be bound to specific and rigid methods. CMMI Best practice provides an organized framework and direction for assessing company, employee, product, and performance maintenance through the Capability Maturity Model Integration for Development (CMMI-dev). This method simplifies the process of transferring knowledge to new employees with documentation, and gives everyone the opportunity to have an impact by providing ideas on how a process can be improved.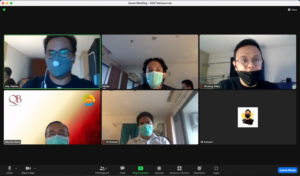 PT Dans Multi Pro has gone through 1 year of preparation to fulfill all important aspects in improving our company's performance.
This preparation has not been easy because the pandemic forced us to coordinate remotely with both KPMG India as the Appraiser and all our team members who are located in various cities in Indonesia. Sharing sessions were also held to generalize the understanding of all team members regarding the quality of processes and best practices expected in software development. In the end, a strict assessment was carried out regarding the effectiveness of the process carried out at PT Dans Multi Pro by KPMG as an Appraiser. After going through various procedures invloving active roles of all levels of work at PT Dans Multi Pro, we have finally obtained Maturity Level 3 ratification, in accordance with the intended target from the beginning. We are grateful for this because it proves that we have international-scale validation regarding our commitment to develop excellent products.
We are very thankful to all of our employees who were involved in this process. We want to invite you to join our team through our job openings. What's certain is that you will obtain work experience that will hone your abilities in giving excellent service. Head over to our career page to see our job openings and find the position that suits you best.